420 Friendly campgrounds to make camping this season a little greener.
Updated June 15 2023
Since 2018, Parks Canada has allowed campers to spark up at their campsites, and as peak season quickly approaches, we wanted to make it a little easier to find a spot in the outdoors to maximize green space for optimal recreational fun.
Each province has its own set of guidelines to follow when it comes to cannabis consumption in Canadian Parks. Generally speaking, cannabis use is acceptable in most front-country individual campsites and trails across Canada, but regulations vary from province to province.
There's an emphasis on smoke-free environments, but that doesn't mean you can't still enjoy the nature that Canadian Parks have to offer.
Here is a breakdown of cannabis-friendly campgrounds and trails in Canada, along with how they rank on our cannabis-friendly scale so you can enjoy them this camping season.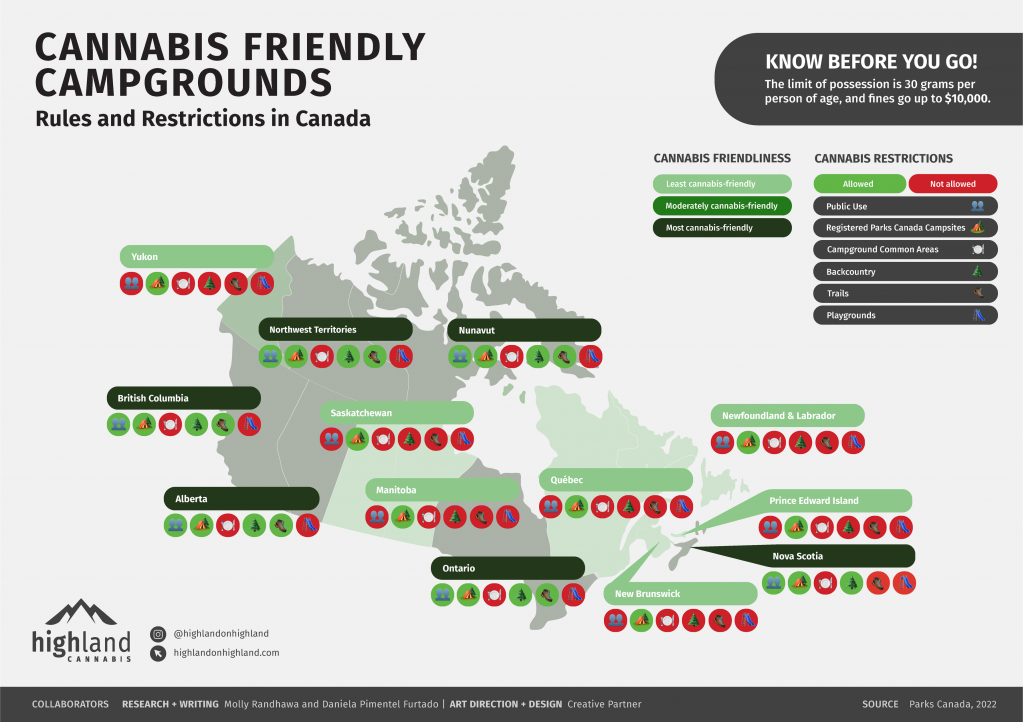 Key Findings:
This is what the Highland team found:
Out of a criteria of six variables – public and day-use areas, backcountry, trails, common campground areas, and playgrounds – the Highland team calculated which provinces ranked the most and least cannabis friendly based on the Parks Canada regulations.

British Columbia, Alberta, Ontario, Northwest Territories and Nunavut ranked the most friendly as 66% of camp facilities are cannabis friendly.
Nova Scotia keeps it neutral at 50%.
Manitoba, Saskatchewan, Quebec, New Brunswick, Prince Edward Island, Newfoundland and the Yukon ranked the lowest at 16%.
Registered campsites are seen as private dwellings, which means cannabis consumption is permitted.
The limit to carry cannabis across Canada is 30 grams per person if you are of age.
Local municipalities set their own rules, as do private campground owners.
(more…)