Looking to try some cannabis-infused chocolates? Here's how you can find suitable weed chocolates in Kitchener.
Whether you're a novice or seasoned consumer, there are a variety of cannabis products, and their consumption methods, in Kitchener to choose from.
While inhalation through combustion or vaporization is the leading method of consuming cannabis, ingesting cannabis in food or drink form is the next best alternative.
So what are cannabis-infused edibles? According to the Canadian Centre on Substance Abuse and Addiction (CCSA), edibles are products that contain cannabinoids, chemical compounds found in cannabis, which you can eat or drink.
Cannabis-Infused Chocolates: What Are They and What Are The Different Types?
Cannabis-infused chocolates or weed chocolates, are made with cannabis extracts or concentrates that include active ingredients like tetrahydrocannabinol (THC) and/or cannabidiol (CBD).
There are numerous cannabis-infused chocolates available in Ontario's legal market however, Ontario's regulations permit no more than 10 milligrams (mg) of THC in each edible package and there is no legal limit on the amount of CBD in each edible package.
Let's look at the different types of weed chocolates that are available in Kitchener:
THC chocolates: chocolates made with cannabis extracts or concentrates with THC as the active ingredient. THC is the main psychoactive cannabinoid that is responsible for the intoxicating "high" effect.


CBD chocolates: chocolates made with cannabis extracts or concentrates with CBD as the active ingredient, which is another common cannabinoid. Unlike THC, CBD does not produce an intoxicating effect but can reduce the effects of THC.


THC + CBD chocolates: there is also a range of weed chocolates that are infused with both THC and CBD at varying ratios like 1:1, 2:1, 1:2, etc., THC to CBD ratio.
How to Choose a Cannabis Chocolate
The effects of consuming cannabis can be different than when you inhale it. The effects of cannabis can be felt almost instantly when inhaled but, when ingested, it can take anywhere between 30 minutes to 4 hours to fully kick in.
Also, when we ingest cannabis, our body turns it into a stronger form called 11-hydroxy-THC.
There are many factors that influence the amount of time it takes for a person to feel the intensity and full effects of the cannabis edible like body weight, metabolic rate, etc.
Here are some factors that could help you choose suitable cannabis-infused chocolate:
1. Type of Cannabinoid:
Are you looking for a more psychoactive (THC) or non-psychoactive (CBD) experience? You can choose between only THC or only CBD chocolates. If you're a first-time user, you could consider THC + CBD chocolates.

2. Amount:
Cannabis-infused chocolates come in different shapes and sizes, ranging from 1 chocolate square to 5 or more squares with 10 mg of THC distributed evenly amongst the squares. Start with a piece of 2.5 mg or less and wait for at least 2 hours to feel the full effects and to avoid overconsumption.

3. Potency:
Legal market cannabis-infused chocolates have an accurate amount of THC or CBD and allow you to get familiar with the potency of the THC and CBD chocolates. So long as you start low and go slow, with some trial and error you can discover how you react to each cannabinoid in different amounts.

4. Time:
Start with the smallest amount and wait at least 2 hours to feel the full effects and to decide if you can consume more. Depending on how cannabis affects you and the amount you consume, the effects can last as long as 6 or even 12 hours.
The Most Popular Cannabis Chocolate Brands in Kitchener
Here are some of the most popular cannabis-infused chocolate brands in Kitchener, Ontario:
A global cannabis brand that offers artisanal chocolates in many delicious flavours like cookies and cream, candy cane white chocolate, etc. These weed chocolates usually come in a small bar of 4 squares and are known for their sustainable packaging, consistent quality and reasonable price.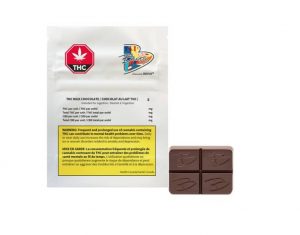 A part of Vivo Cannabis, Fireside is a Canadian brand from Ontario that offers a range of cannabis products including delectable chocolate truffles in many flavours like dark chocolate salted caramel, milk chocolate salted caramel, etc. Each tube has two truffles and was created with Belgian Master Chocolatier, Wim Tas.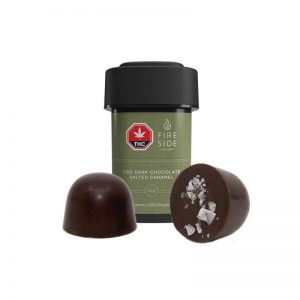 A part of Dycar Pharmaceuticals Ltd., Legend Cannabis is a Canadian brand from B.C that offers weed chocolates in flavours like raspberry milk, cool mint crush, etc. These chocolates were made by master chocolatier, Bernard Callebaut, with organic, fair-trade and sustainably-sourced ingredients.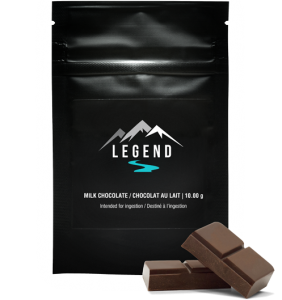 Where to Buy Cannabis Chocolates in Kitchener
You can browse and place an order for cannabis products, cannabis edibles, gummies, THC chocolates, CBD chocolates and more online at the Ontario Cannabis Store or visit and support your local legal cannabis dispensary. You can also find out more about weed delivery here.
Want to learn more?
Drop by Highland Cannabis today and chat with one of our many knowledgeable budtenders to learn more about cannabis-infused chocolates, cannabis gummies and other cannabis products too. You can browse our online menu and place an order online for curbside pickup or delivery.
At Highland Cannabis, we enjoy meeting new customers and helping them choose cannabis-infused chocolates on individual preferences and lifestyle needs.
Feel free to visit us at 370 Highland Road West, Kitchener and you'll leave with a smile on your face.