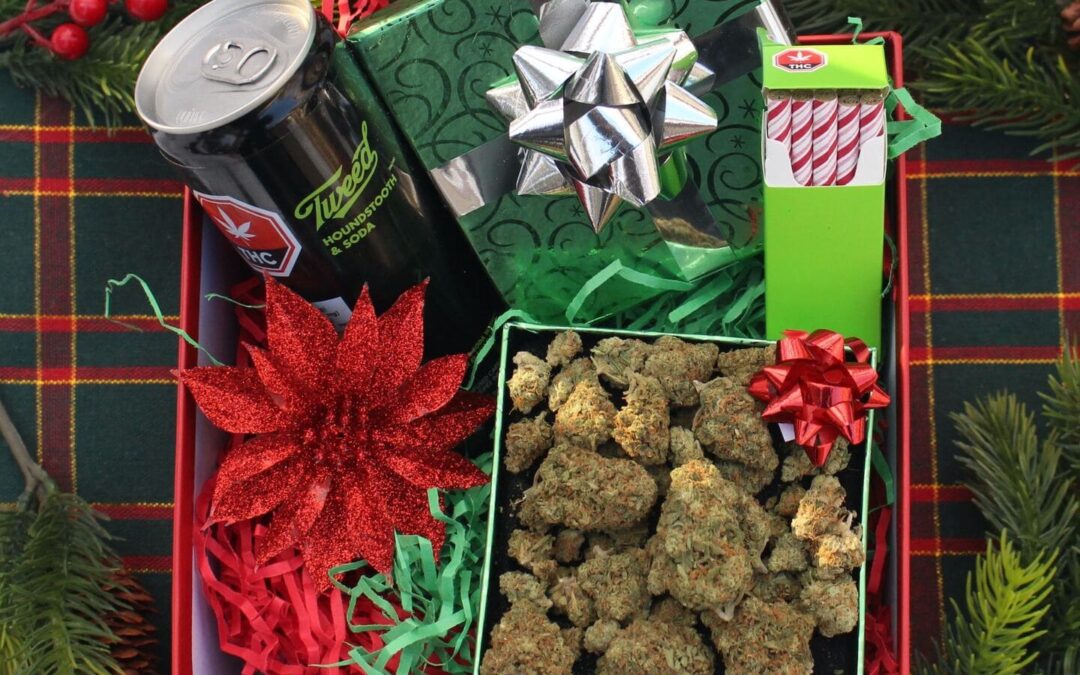 Canna gifts are perfect for the holidays. What makes the cannabis plant unique is its medical and recreational benefits. You can't go wrong whether you get CBD cream for someone needing muscle relief or high-THC dried flower for relaxation.
Here at Highland Cannabis, our team works hard to support you on your weed journey. We made a cannabis gift guide for 420-friendly people in Kitchener to make your holidays extra special.
From casual consumers to more serious enthusiasts, our guide has recommendations for everyone on your list. Even the naughty ones.
Jump To…
Gifts for the Cannabis Green Thumb in Kitchener
From harvesting and trimming to curing and storing, a lot of work goes into growing weed. If you've got some home grower friends or family members, here are some gifts they'll love.
It all starts with a seed. At Highland Cannabis, we've got feminized seeds for your green thumb friend, so they don't have to worry about male plants ruining their crop this season.
Canna Seeds Co's Frosted Zin Autoflower Seeds – Hybrid – 8 Pack are a great option for any homegrower. Due to its autoflowering abilities, the Frosted Zin strain delivers robust harvests in a short amount of time.
Autoflowering strains aren't for everyone, though. Some people prefer the traditional process. That's when the Garlic Chem Feminized Seeds 5-pack comes into play. This plant has above-average yields and a notable resistance to powdery mildew. Tell that to any weed-growing enthusiast, and they'll be all over it.
Marijuana Grow Gifts for After-Harvest Care
Growing the plant is arguably the easy part. Curing and properly storing what you've grown matters even more so you can enjoy the full benefits of the plant.
Get your weed gardener friends a bunch of the Boveda Humidity Packs we carry in-store and online. Boveda humidity packs restore and maintain humidity to protect the terpene profile of the bud.
It's best to use humidity packs in stash jars, also available in our store. The Highland Cannabis Stash Jars are a great way to rep your favourite local cannabis shop and keep your weed fresh.
Holiday Weed Gift Ideas for Mom
Treating mom with a gift basket of cannabis wellness goodies this Christmas could put you in her good books for a long time. It might seem hard to believe, but moms do enjoy weed, too. So impress your mom and get her personalized cannabis accessories and weed products from Highland Cannabis.
First up in the wellness pack for moms is the Bubba Kush | Chocolate Hashberry | Blue Dream | Bath Bomb 3-pack. These relaxing bath balms will ease her stress and turn her bathroom into a spa-like oasis.
Next up is the high CBD ufeelu – The Feel Stick – Blend – 30g. Your mom can apply this salve stick directly to muscles and joints for pain relief. It features a broad-spectrum blend of 500mg CBD, 100mg CBG and 100mg CBC in a moisturizing cocoa butter and beeswax base.
Lastly, I don't know about yours, but my mom loves Christmas ornaments. Toss a sneaky Canna Leaf Christmas Ornament on the tree this year and see if she notices.
P.S. For even more thoughtful gift ideas for mom, check out our Mother's Day Cannabis Gift Guide.
Gifts for the Low-Key Stoner in Kitchener
Vape pens and small pipes are perfect for people who want to enjoy the benefits of cannabis discreetly. Vaporizing cannabis flower or concentrates produces less odour than smoking does, and you can easily tuck a pen into your pocket and take it on the go.
The Grenco Science – G Pen Micro+ X Lemonade has a rechargeable battery and smart-chip technology, so your precious concentrates don't overheat and burn.
The High Expectations Hand Pipe by Genius is a discreet pipe that fits in your pocket and allows you to enjoy the experience of smoking cannabis flower instead of concentrates. It's super sleek and easy to clean and take anywhere.
RYOT came out with a Dry Herb Vape for $99 that is tiny, easy to use, and perfect for someone who enjoys smoking cannabis but also wants to give their lungs a break. Using dry herb vaporizers is much less harmful to you than smoking a joint.
Gifts for the Weed Scholar
Whether you grow cannabis for fun, enjoy making tinctures and topicals, or like having coffee table pieces to display in your home, cannabis-related books make great gifts.

In the book How to Smoke Pot (Properly), VICE weed columnist David Bienenstock highlights pro tips from friends in high places, including cannabis celebrities and thought leaders of the marijuana movement. Readers will learn everything from the basics of blazing to how Mary Jane makes humans more creative and collaborative.
The book CBD: A Patient's Guide to Medical Cannabis– Healing without the High explains how to use CBD-dominant cannabis for healing. This is the go-to guidebook for anyone wanting to learn about CBD.

If you're curious about the overall healing properties of weed, The Medical Cannabis Guidebook: The Definitive Guide To Using and Growing Medicinal Marijuana is the most exhaustive guide to medicinal cannabis produced to date.
The Highland Cannabis team's mission is to educate and provide accurate cannabis information to our customers so you feel confident and prepared during your cannabis journey.
Gifts for Classic Weed Smokers in Kitchener
Sometimes vaporizers, concentrates and topicals are just too much for people to handle, and they prefer the basics.
Nothing is more classic than a big ol' bag of weed. The Big Pleasures Pure Laine Cannabis 28g is a high THC hybrid. And 28g for under $100 is a great deal.
Treat someone special to some top-shelf bud. Jungl' Cake by MTL Cannabis is a high-THC strain with bright green buds, deep orange hairs, and frosty white trichomes.
For ready-to-smoke classic weed options, nothing beats pre-rolls. Jonny Chronic has an amazing strain called Cherry Bomb. Make someone's Christmas morning extra special this year by stuffing their stocking with the Cherry Bomb Pre-Roll 10-Pack.
Bags of cannabis flower and packs of joints are timeless. Any weed lover in Kitchener will be thrilled by any of these canna gifts.
Weed Gifts to Spice Things Up in the Bedroom
Being open and trying new things in the bedroom can help deepen intimacy with your partner. Here are some gift ideas that could enhance the bedroom experience with your partner.
Pick up some massage oils and arousal oils to take things up a notch. We sell Proofly's Intimacy Collection, which has a warming CBD massage oil for relaxation, CBD arousal oil that sets the stage, and a water-based unisex lubricant that can increase pleasure.
You can purchase any of the three products individually or as a collection in Highland Cannabis' online store. Trying new things can be a little awkward, but it doesn't have to be. Cannabis can help you relax and feel more comfortable in the moment.
The Edible Cannabis Gift Pack for Candy Lovers of Kitchener
Cannabis edibles are a great option for many people. If you care about your health and don't want to inhale smoke, edibles are a good choice. When you take cannabis by mouth, it stays in your system longer than if you inhale it.
Many people are starting to use cannabis drinks and gummies as a healthier alternative to alcoholic drinks.
The OG Cola | 355mL by Sweet Justice is naturally flavoured and sweetened with real sugar. It has a fast onset and a low 3.5mg dose with a predictable effect, making it a safe bet.
On the higher dose end of the spectrum, we've got the OG Kush Root Beer | 355mL that comes in at 10mg per can. Get buzzed discreetly and drink ice cold in a frosted mug or as a root beer float.
Serve up a tasty cannabis culinary treat this holiday with the Chocolate Brownies | 2-Pack. Each brownie contains 5 mg THC and 2.5 mg CBD and provides a chewy, soft and decadent chocolate taste.
For a balanced buzz, the SOURZ 2:1 Tropical Triple Berry are 2:1 CBD/THC tropical fruit soft chews. They're packed with flavour and great for sharing.
At Highland Cannabis, we carry a diverse and delicious range of edible cannabis treats that make for perfect holiday gifts this holiday season.
Highland Cannabis is Here to Elevate Your Gift-Giving Game in Kitchener
From nurturing your homegrower's green thumb to pampering your wellness-focused mom to stocking up your classic weed lover's stash, our curated cannabis gift guide promises something for every enthusiast.
We believe in more than just products. It's about empowerment and education, and our goal is to ensure your cannabis journey is guided with knowledge and supported by quality products.

Merry 420 Christmas from the Highland Cannabis team!