As the cannabis industry continues to evolve, it's becoming clear that women are a driving force in this space. While it's true that the industry has been traditionally male-dominated, that is changing rapidly as more women recognize the many benefits of cannabis as a tool for wellness. As a leading brand in creating cannabis products tailored to women, Madge and Mercer – Modern Apothecary, the first cannabis brand that is science and research-based, is leading the way by providing cannabis products tailored specifically for women over 40. In addition to being design-forward and crafted with intention, the products crafted by Madge and Mercer are less strain-specific and are crafted to taste good with a recipe-forward approach, as well as being beneficial to women's health.
However, despite this progress, women still face significant disparities in the industry. Women's expertise is often overlooked, and their use of cannabis is still heavily scrutinized. By shining a light on the importance of women in cannabis and supporting brands like Madge and Mercer, we can challenge the stigma surrounding women's access to cannabis and help women of all ages experience the possible benefits of it, too.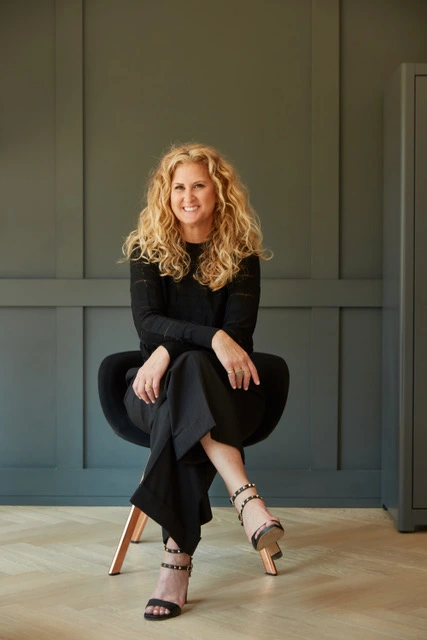 The Toronto-based cannabis-wellness brand, Madge and Mercer, aims to educate women about the benefits of cannabis for their holistic well-being and breaks down barriers in the cannabis industry. We at Highland Cannabis, had the chance to chat with the woman-owned cannabis brands founder, Shauna Levy, who shares more insight on the benefits of cannabis, being a woman in the cannabis industry, and how to overcome the stigma around the plant.
Women, Weed, and The Stigma
We've all heard claims about the incredible healing properties of cannabis, but much of this information is often purely anecdotal. From the perspective of a women-owned cannabis business, due to compliance regulations, LPs (Licensed Producers) are often unable to share product information that could potentially indicate health benefits, proper dosages, or how to use a product. As a result, consumers are often left in the dark about the potential benefits of cannabis products. This information, paired with the pre-existing stigmas around cannabis use, brings another unique set of challenges. Questions about how to use a cannabis product, how much to take, and its medical implications are often the main focal points of these concerns. While there are many health benefits associated with cannabis, navigating these concerns can become a point of contention when trying to market a product due to what cannabis retailers, producers, and cannabis marketers are allowed to share about a product. Generally, our experience has shown that some women are often unsure or uncomfortable when it comes to purchasing cannabis, based on conversations we've had with our guests at Highland Cannabis.
How to Improve Cannabis-Buyer Experience For Women
There are also many other layers too that complicate the cannabis-buying experience for women. During an interview with Levy, she points out that many women may feel uncomfortable discussing issues such as reproductive health and how cannabis can benefit mature women when interacting with (often) younger budtenders who may not experience the same issues and may not be permitted to give medical advice. The importance of having someone who understands the concerns of these demographic groups, such as female budtenders, will directly be beneficial for women in the cannabis space.
Women-Owned Cannabis Brands are Setting a New Standard
If we take it back a little bit to how Levy first started, this problem goes to the very beginning of understanding the consumers' needs. Recognizing that women are interested in cannabis through her own experience, she is actively working around barriers to share product knowledge and education about cannabis in her communities. Madge and Mercer began after Levy began to experience her health concerns and began using cannabis-based products to alleviate pain. She explains that, traditionally, health topics like menopause and hormonal changes were not openly discussed, yet she found a community of women seeking to support each other's well-being. She discovered there was an entire market of women who weren't being reached who could benefit from cannabis, but the fear and shame around cannabis use was a limitation for these women to access care for their pain management. As a leader in the space, Levy took a page out of the book of Arbonne and began hosting Tupperware parties, where women could get together and discuss all things cannabis.
A Natural Option For Pain Relief and Women's Health
Cannabis has long been used for medicinal purposes and has recently become a popular alternative for holistic wellness. Women, in particular, may be interested in using cannabis for various benefits, such as menstrual pain relief, mood stabilization, and anxiety reduction.
Cannabis products may very well provide more diverse options within the industry to deal with symptoms related to women's health than traditional pharmaceuticals. CBG (cannabigerol) is a minor cannabinoid found in cannabis that is believed to have potential therapeutic benefits, such as reducing inflammation, pain, and nausea. CBN (cannabinol) is another minor cannabinoid that is produced as THC (tetrahydrocannabinol) breaks down, and it is believed to have potential sedative effects. While more research is needed to fully understand the effects of CBG and CBN, some studies suggest that they may help alleviate cramping sensations by reducing inflammation and muscle spasms in the affected area. CBG has also been found to have potential anti-inflammatory effects, while CBN may help with pain relief and relaxation.
Highland's Top Cannabis Products for Women
Through conducting research in our store and consulting with our staff who experience menstrual discomfort, along with the guidance of Sumi, a Highland budtender, we suggest these products that contain a 1:3 / 1:4 THC ratio from the Madge and Mercer, Modern Apothecary Collection, available at Highland Cannabis.
Highland Cannabis' Recommendations
Recommended by our staff, the MM 002 El Alevio Menta Disposable CBD Vape Pen is a great option for those who prefer inhalation of cannabis products.
The Madge and Mercer Bonne Nuit CBD/CBN Apothocart™ paired with a small amount of CBG, are effective for addressing most menstrual related issues according to the women at Highland Cannabis.
Madge and Mercer's Founders Recommendations
Levy recommends La Calma oil and the vape for pain relief, which are both available at Highland Cannabis.
The Entourage Effect and How it Affects Women's Health
Everybody is different and how your body responds to it is a test of trial. The entourage effect occurs when minor cannabinoids and other compounds in cannabis work together to enhance each other's effects, and each cannabinoid can help find natural relief for women's health issues. Terpenes such as Farnesene and Myrcene are found in large amounts and have anti-inflammatory properties that can help with PMS and migraine symptoms. Phytol, although not found in large amounts, can help with mood and inflammation, while Borneol is an analgesic with anti-inflammatory properties but is not present in large amounts. It's important to note that women may have a higher tolerance for cannabis, which can result in requiring more cannabis than men.
Empowering Women Through Cannabis Education
For women who do choose to use cannabis, finding a safe and trusted source for products is crucial. Madge and Mercer's focus on creating a comfortable and supportive environment for women interested in cannabis is one example of how businesses can cater to the specific needs and experiences of women consumers. The Madge and Mercer Modern Apothecary products are designed with a subtle and minimal look, drawing less attention compared to the flashy packaging of other brands. This classic and minimalist design is not only visually appealing but also less likely to attract the attention of children. It's important to acknowledge that any product used for wellness or medication carries inherent risks. However, Levy has found great satisfaction in seeing the positive effects of her product on women's lives.
Final Thoughts about Women in Cannabis
Women need to have access to accurate information and resources about cannabis, as well as a community of support and advocacy to help overcome the stigma and barriers that may exist around cannabis education and use. As an industry that has historically been male-dominated, it's crucial to hire more women in cannabis to bring diverse perspectives and experiences to the forefront. Trusting and supporting women in cannabis means recognizing their capabilities and expertise, and empowering them to thrive in their roles, including budtenders, producers, and business owners. When it comes to purchasing cannabis products, choosing to buy from women-owned businesses can help amplify the voices and contributions of women in the cannabis industry. Together, we can create a more inclusive and equitable cannabis community where women are empowered to excel and make a lasting impact. At Highland Cannabis, we're proud to be a woman co-owned small business that hires a gender diverse workforce.
Sources:
Russo, E. B. (2011). Taming THC: potential cannabis synergy and phytocannabinoid-terpenoid entourage effects. British journal of pharmacology, 163(7), 1344-1364. Available at: https://www.ncbi.nlm.nih.gov/pmc/articles/PMC3165946/
Cystic Fibrosis Foundation. (2020, December 17). Adding Medical Cannabis to My Care Plan. Available at: https://www.cff.org/Community-Blog/adding-medical-cannabis-to-my-care-plan/
Fischer, B., et al. (2020). Health outcomes and adverse events associated with cannabis use in women: A rapid evidence review. Available at: https://pubmed.ncbi.nlm.nih.gov/33109153/
Morales, P., et al. (2021). Cannabis use among menopausal women in the United States. Menopause, 28(9), 987-992. Available at: https://journals.lww.com/menopausejournal/Fulltext/2022/09000/A_survey_of_medical_cannabis_use_during.6.aspx
Leafly. (n.d.). Best cannabis strains for PMS. Available at: https://www.leafly.ca/strains/lists/condition/pms
Gobbi, G., et al. (2017). Cannabinoids and glial cells: possible mechanism to understand schizophrenia. Available at: https://psycnet.apa.org/record/2017-33326-005
Medical News Today. (2022, January 7). CBD vs. CBG: Differences, benefits, and effects. Available at: https://www.medicalnewstoday.com/articles/cgb-vs-cbd
Fajardo, C., et al. (2021). Cannabinoids and the immune system: potential for the treatment of inflammatory bowel disease. Available at: https://www.ncbi.nlm.nih.gov/pmc/articles/PMC9464445/
Madge and Mercer. (n.d.). Cannabis for women. Available at: https://www.madgeandmercer.com/cannabis-for-women.html