Pre-rolls are joints prepared using a machine or rolled by hand then sold to consumers by cannabis dispensaries or licensed online delivery companies. They're fantastic if you're just learning how to roll doobies or prefer something that's ready to smoke. Here are three tips to help you get the best experience when buying pre-rolls in Kitchener.
What to Look for When Buying Pre-Rolls in Kitchener
1. Price to Quality Ratio
The average price of a 3-pack, each joint containing one and a half grams of bud is $25. Dispensaries also collaborate with cannabis processors to produce in-house luxurious pre-rolls containing a mixture of dry flower, kief, and rosin. The packaging is highly aesthetic and features child lock safety mechanisms.
Cannabis brands that sell 3-packs ranging below $20 use small or popcorn-size nugs to manufacture pre-rolled joints packs. These nugs are potent and rich in flavours, however, they're too small to package them as eighths. Some licensed processors use shake, which refers to the small bits of dry bud that disintegrate whenever harvested cannabis flower gets transported or packaged for sale. These joints have little to no flavours and the smoke is quite dry.
Top-shelf pre-rolls in Kitchener range from $27-$30 because they're made using premium strains. Consumers get to enjoy a variety of tasty flavours that's almost similar to smoking live resin extracts because the buds used for manufacturing are dried and cured in temperature-controlled rooms.
2. Strains Influence Prices
Cannabis enthusiasts organize annual events such as the High Times Cup where growers from Canada, Europe, and the U.S meet to showcase buds and compete for the title of the best strain of the year. Sometimes little-known strains achieve premium status due to receiving massive popularity across the country, for instance, the rise of Sour Diesel during the '90s.
A hybrid is a strain that's created using indica and sativa genetics, for instance, GSC (formerly known as Girl Scout Cookies) that consists of Durban Poison and a secret variety of OG Kush. A GSC pre-roll joint can cost around $14 while Gorilla Glue 4 (GG4), which has been in the market longer than Cookies, sells for $8. The difference in price arises from the massive celebrity endorsement GSC has received yet both hybrids have THC concentrations ranging between 18-20%.
3. Brand's Reputation
It's easy to know where to get the best pre-rolls in Kitchener by paying attention to the dispensary or online vendor that's frequently mentioned through word of mouth or within social media. A majority of cannabis consumers prioritize quality over prices and won't hesitate to refer their friends whenever sellers provide value for money.
Unlicensed vendors sometimes cut corners in their production process by packing pre-rolls in cheap permeable containers. Such poor storage conditions cause the joints to dry up and consumers experience throat irritation while smoking.
Pre-Roll Joints Packs in Kitchener
We have a collection of pre-rolls both in our physical location in Kitchener and on our website. Below we've listed 3 pre-roll joints from our online store, but check out the pre-roll section on our online store for the full collection.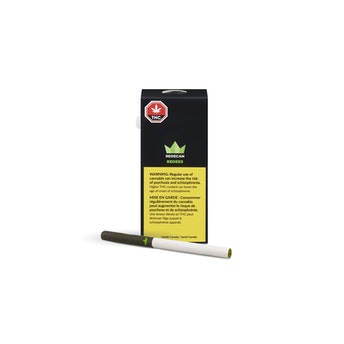 1. Redees Wappa Pre-Roll 10-pack | 3.5g
The Redees Wappa Pre-Roll 10-pack contains joints weighing 0.35 grams that have firm tips at the end for providing maximum airflow and grip. The Wappa strain has a strong potency since it contains THC ranging from 19-25%, making it an ideal indica to enjoy in the evening.
The smoke produced matches its heavy dank and fruity flavours that pop as soon as the pack is opened. Smoking a Wappa pre-roll after a long hike or intense gym session can relieve muscle pain since it contains a terpene known as myrcene which reduces inflammation.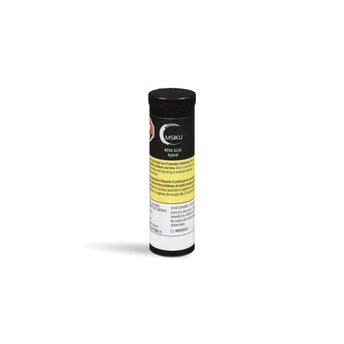 2. Nova Glue Pre-Roll 3-pack | 1.5g
Hybrid strains are popular because they rank highly in potency and enable consumers to enjoy a blend of indica and sativa experiences. The Nova Glue Pre-Roll 3-pack weighs 1.5 grams and has three perfectly rolled cones stored in a cylindrical container with a childproof top. It's also airtight to prevent heat from drying up the joints and loss of flavours.
Nova Glue is a strain created from Gorilla Glue 4, GSC, and Sour Diesel. Consumers who smoke this strain can taste a combination of sour and citrus flavours. The terpene limonene, which is present in this hybrid, is effective in reducing swelling in the body.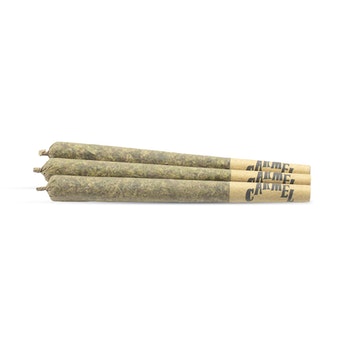 3. Animal Face Pre-Roll 3-pack | 1.5g
Animal Face pre-rolls burn slowly and evenly since the dense nugs coated with frosty trichomes which are used in production produce plenty of resin when heated. Each joint weighs 0.5 grams and produces an aroma of rich diesel and pine flavours. This heavy-hitting sativa contains 24% THC which makes it a suitable choice for daytime consumption.
Where To Buy Pre Rolls In Kitchener
It's easy to get value for money when you apply the three tips we've shared. If you have more questions, feel free to come to visit us at 370 Highland Road West in Kitchener and we can answer your questions to help you choose pre-rolled joints, Sativa strains and anything cannabis-related. You can even get them delivered!