FOR IMMEDIATE RELEASE
LOCAL DESIGNER WINS PRESTIGIOUS AWARD FOR EXCEPTIONAL DESIGN OF CANNABIS STORE ON HIGHLAND ROAD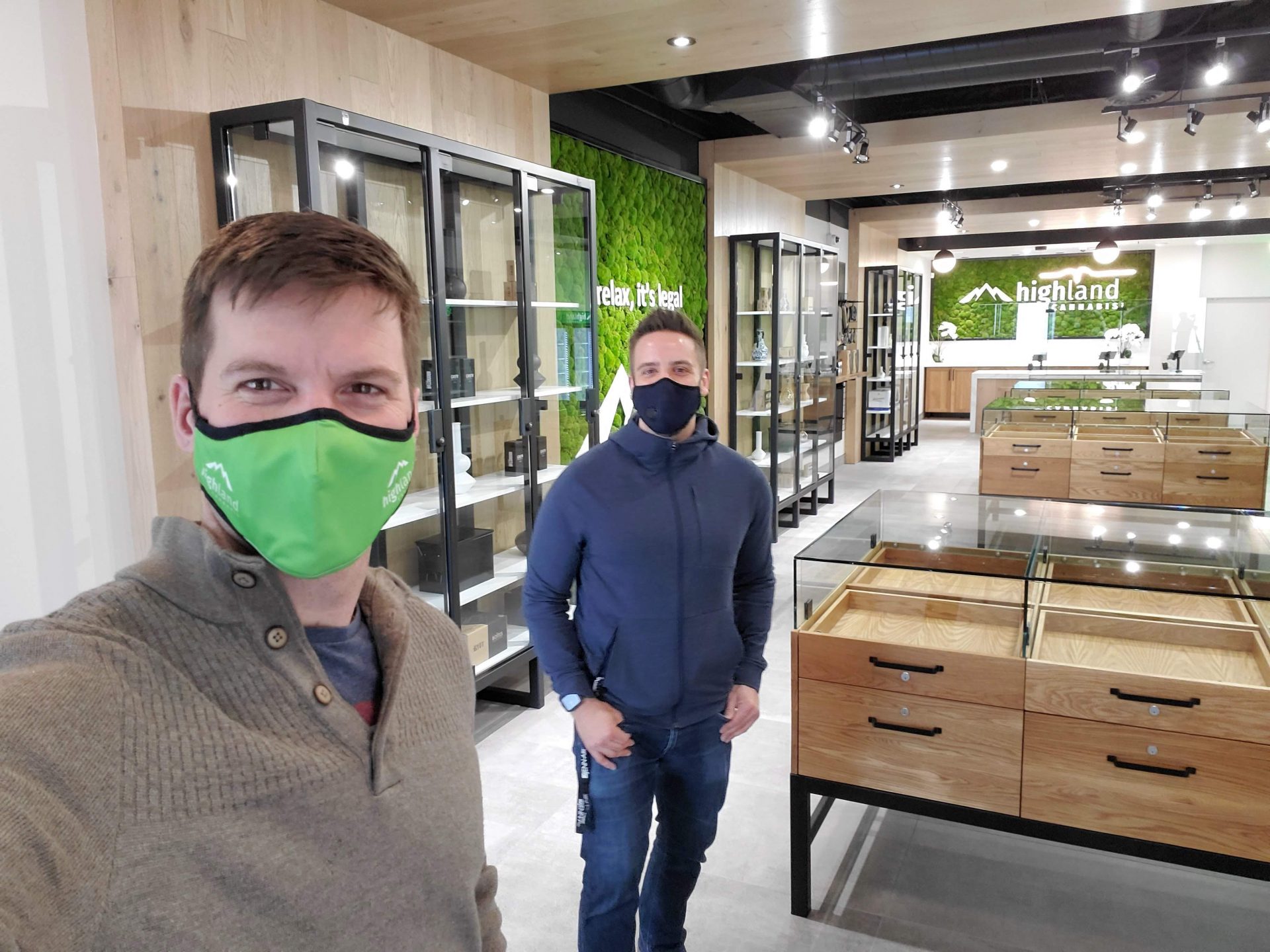 The annual awards program recognizes decorating and design excellence in Canada across a variety of categories
KITCHENER, ON | MAY, 2021 — Highland Cannabis, a cannabis retail store located on Highland Road in Kitchener, is proud to announce that the design of its nearly 3,000 square foot store has won first place in the Commercial Design category in the 2021 Decorating and Design Competition held by the Decorators & Designers Association of Canada (DDA Canada). The annual awards program celebrates and recognizes decorating and design excellence in Canada across a variety of categories. Designer and award recipient, Benjamin John Ouellette, is a long-time friend of Niki and Owen Allerton, the owner and operators of Highland Cannabis.
"When we started down the path of building a local and independently owned Cannabis retail shop, one of the first people we called was Benjamin. We had worked with him in the past, but this was the first commercial project," explains Owen. "He truly outdid himself once again! We described our operational model and the feeling we wanted to achieve, and Benjamin not only brought it to life with his exceptional design, but also played a critical role throughout the build-out process, assisting with fit and finish selection, lighting plans, fixture design and creative input."
With over fifteen years' experience, Benjamin John Ouellette is a top advocate for the latest trends in the kitchen, bath and interior design industries. Benjamin has been featured as an expert in various publications and is the recipient of numerous international design and industry awards. As an expert, Benjamin has also sat as a judge on various design awards committees around North America. Recently, Benjamin has received his Certified Living In Place Professional (CLIPP) certification which qualifies him to create accessible, comfortable and safe spaces for everyone in the family; no matter their age, or physical and cognitive limitations. Benjamin's passion for this ever-changing industry is undeniable and is showcased through Highland Cannabis' exceptional design.
"Creating a high-end design that embodies the passion that Niki and Owen have for their business was only possible by carefully combining their vision and the Ontario guidelines for a cannabis retail store," explains Benjamin. "It was a challenging yet rewarding process to use the psychological elements and principles of design to create this space and guide customers through an inviting, safe and aesthetically pleasing retail environment. I am thrilled that the Canadian DDA Design Award judges saw this as the top commercial design of 2021."
The design of Highland Cannabis not only optimizes the use of space in a uniquely shaped retail unit in the Evergreen Plaza on Highland Road, but it also includes challenging design elements such as suspended wooden features and custom fixtures. The Allertons sought local expertise to execute this award winning design, turning to Wayne Montgomery and his team at Montgomery Custom who specializes in custom built high-quality fixtures, furniture and full spectrum design and build projects.
"Benjamin's design included several challenging elements, such as the suspended wooden features, massive moss walls and custom designed display cases but we love a good challenge. Everything was custom built from high quality materials and parts sourced using local partners. It was a pleasure working with Ben to bring his design to life," says Wayne.
As a local and independent shop, Highland Cannabis is proud to have been designed and built with local talent.
"We're thankful to have worked with such a wonderful team to build our store — it feels like family built it. Benjamin John Ouellette's vision exceeded our expectations and Wayne and his team were able to bring that vision to life," says Owen. "We look forward to their future projects and are honoured that they are an integral part of Highland Cannabis' identity."
Today, Highland Cannabis continues to thrive as Kitchener's premier independently owned Cannabis retail shop that boasts the region's broadest selection of quality, legal Cannabis products in addition to being the region's largest and safest indoor Cannabis retail space. The welcoming retail store continues to emphasize the importance of serving the local community and is proud to be an example of the successful and exceptional design skills of a Canadian design powerhouse.